---


Squirrels and the art of tightrope walking

Text and original photographs by Helen Jandamit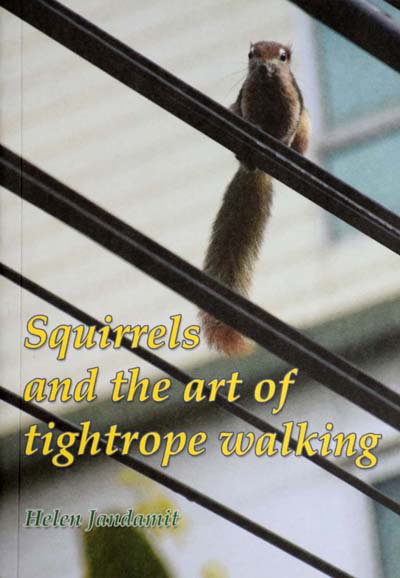 This is how it starts:

'This is the book I always wanted to read. I couldn't find it 'out there'
so I decided to write it myself.'

'I wanted to read about people's actual spiritual experiences and how those experiences had impacted their lives both in their outlook and in their lifestyles.

Erm… but what's that got to do with squirrels?


Like the squirrel on the line, I see people, who are trying to navigate
an awakened path through life like tightrope walkers.'
200 pages 30 illustrations  14.5 cm x 21 cm

Written, illustrated and published by H. Jandamit

Book Design by Amorn Ronra

Printed by CYBERPRINTGROUP CO. Ltd.

Printed and published in Thailand

First published April 2015

Price 950 Baht

ISBN: 978-616-382-607-7
There are 20 chapters. The first 18 are based on actual experiences that triggered the arising of profound wisdom. The 19th and 20th chapters give detailed, step by step instructions for a traditional method of concentration plus mindfulness-based practice and also Loving Kindness' meditation.

Most of the chapters are followed by quotes from various cultures and traditions and also by activities to help you wake up to your present moment.

About the author

Acharn Helen Jandamit
(Formerly Reverend Saddharma)

Helen Jandamit is a spiritual independent. Born in the UK, she's been
practising Vipassana meditation for about 65 years and teaching it
for over 40 years in Thailand, Australia, Austria and the USA.

She is also a freelance painter, writer and editor.

She runs the House of Dhamma in northern Bangkok. Previously,
she taught Buddhist Vipassana Meditation retreats in association with
YBAT (The Young Buddhists Association of Thailand) and IBMC (The International Buddhist Meditation Centre) under the auspices of Mahachulalongkorn Buddhist University in Bangkok,

In March, 2002, on the occasion of UN International Women's Day,
she was honoured as the Foremost Western Woman Meditation Master
in South-east Asia.


Acharn Helen Jandamit can be contacted by email at dhamma.art@gmail.com



A sample passage from

'Squirrels and the art of tightrope walking'
Ice cube Dhamma
Our view of self is rather like a cube of ice. It is frozen into seeming form
with apparent characteristics and distinguishing marks, but when you
hold an ice cube, it melts. It runs out between your fingers.
Its fluidity and changing nature become apparent. However hard you try,
you cannot hold on to momentary solidity born of conditions.
Imposing interpretations, such as concepts taken from ancient texts,
onto your authentic experience of now, can be debilitating. It can lead
you to think that an armour of deadened feelings is preferable to
being open to your actual experiences.
It is when you can allow unresolved issues and feelings to be as they are, without shunting them into intellectually catagorized boxes, that you can be open to wider possibilities.
It is when you can embrace clumsiness, unknowing, forgetfulness,
passionate excess, timidity and even fear, that their power to demean,
restrict and imprison you fades away.
ORDERING AND DELIVERY

Price 950 Baht
ISBN: 978-616-382-607-7


Squirrels and the art of tightrope walking is currently available in Thailand at The House of Dhamma and you can also order online.




ORDERING AND DELIVERY

In Thailand

You can purchase 'Squirrels and the art of tightrope walking'
at a discount price at the House of Dhamma.
The House of Dhamma
26/9 Lardprao Lane 15, Jatujak, Bangkok 10900.
Tel. 02 + 511-0439 or 02 + 512-6083
e-mail: dhamma.art@gmail.com
website: www.houseofdhamma.com
Open from 10.00 to 17.00, Wednesday to Sunday.
Please phone or e-mail for an appointment before visiting.



You can also order the book by e-mail.
Please copy the online order questions (see below)
to an e-mail and send them to
Please contact dhamma.art@gmail.com for further details.

You can pay by Western Union, bank transfer through SCB or online.
Books will be delivered by surface mail in Thailand.




ORDERING AND DELIVERY
FROM OUTSIDE THAILAND

If you are outside Thailand, you may purchase a book or books
by Western Union or bank transfer.
Please copy the online order questions (see below)
to an e-mail and send them to dhamma.art@gmail.com

When they are received here, you will be sent the details
that you will need to make the bank transfer. Postage and packing
will be included in the price and books will be sent by SAL – Sea; Air; Land
or, on request, by airmail.
The price varies according to distance and the number of books sent.
SAL is slightly cheaper.


Airmail charges
*For delivery to other countries in Asia, the charge for airmail is
116 Baht per book, plus 20 Baht for packing.
*In Australia and Europe, postage is 146 Baht by airmail,
plus 20 Baht for packing.
*The airmail postage charge to the USA is 176 Baht per book,
plus 20 Baht for packing.
Delivery time varies from country to country but is usually between two
and four weeks for airmail and 6 to 8 weeks for SAL.
EMS is much more expensive.
These rates are subject to change.
Order form

Squirrels and the art of tightrope walking
Mr/Mrs/Miss/Ms. + Name
Surname/Family name
Number of books
Address to send the books
.
.
Do you prefer SAL,
Airmail or courier?
Mobile phone
Tel.
Please send your answers by e-mail to dhamma.art@gmail.com