---


Squirrels and the art of tightrope walking

Text and original photographs by Helen Jandamit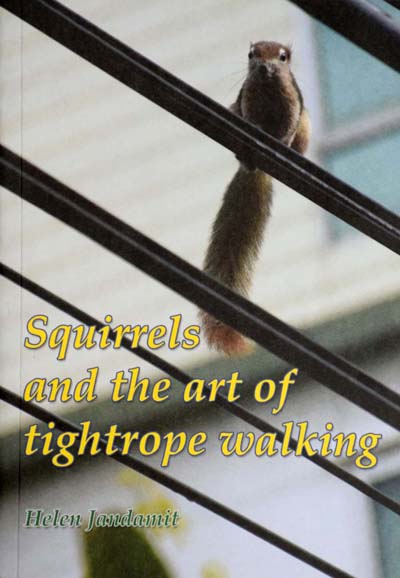 '...I see people, who are trying to navigate
an awakened path through life, like tightrope walkers'
200 pages 30 illustrations  14.5 cm x 21 cm

Written, illustrated and published by H. Jandamit

Book Design by Amorn Ronra

Printed by CYBERPRINTGROUP CO. Ltd.

Printed and published in Thailand

First published April 2015

Price 950 Baht

ISBN: 978-616-382-607-7
18 chapters are based on actual experiences that triggered the arising of profound wisdom:
2 chapters give detailed, step by step instructions for a traditional method
of concentration plus mindfulness-based practice.

Most of the chapters are followed by quotes from various cultures and traditions and also
by activities to help you wake up to your present moment.
ORDERING AND DELIVERY

This book is currently available in Thailand.
Please contact this email address if you wish to have it sent abroad.
dhamma.art@gmail.com


You can purchase 'Squirrels and the art of tightrope walking'
at a discount price at the House of Dhamma.
The House of Dhamma
26/9 Lardprao Lane 15, Jatujak, Bangkok 10900.
Tel. 02 + 511-0439 or 02 + 512-6083
e-mail: dhamma.art@gmail.com
website: www.houseofdhamma.com
Open from 10.00 to 17.00, Wednesday to Sunday.
Please phone or e-mail for an appointment before visiting.

You can also order the book by e-mail.
Please copy the online order questions (see below)
to an e-mail and send the answers to
Please contact dhamma.art@gmail.com for further details.

You can pay by Western Union, bank transfer through SCB or online.
Books will be delivered by surface mail in Thailand.


Order questions

Squirrels and the art of tightrope walking
Mr/Mrs/Miss/Ms. + Name
Surname/Family name
Number of books
Address to send the books
.
.
Mobile phone
Tel.
Please send your answers by e-mail to dhamma.art@gmail.com