Map to the House of Dhamma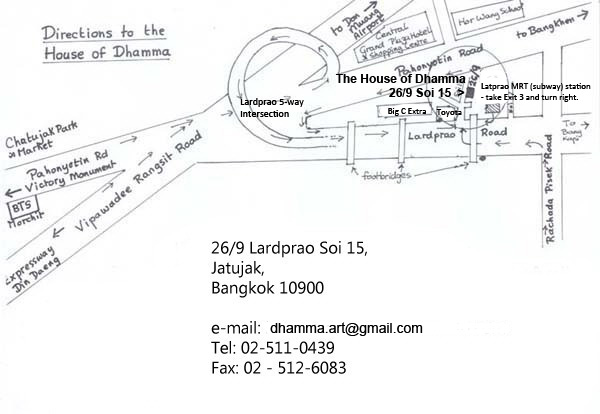 ---
Directions to the House of Dhamma 2023

Address in Thai
26/9 ลาดพร้าว ซอย 15
ต. จอมพล อ.จตุจักร
กรุงเทพฯ 10900
ประเทศไทย
อยู่ห่างจากห้างเซ็นทรัลลาดพร้าวเพียง 1 กิโลเมตร
หรือนั่งแท๊กซี่ประมาณ 10 นาทีจาก BTS หมอชิด
หรือเดินจาก MRT (ทางออก 3) ลาดพร้าวประมาณ 10 นาที
Tel: 02 511 0439

E-mail: dhamma.art@gmail.com
Directions by public transport
A: Get the subway (MRT) to Latprao (sometimes spelled Latphrao, Ladprao or Latprao) station.
(+ ** below.) or
B: You can get the BTS skytrain to the Morchit BTS station (the easier transfer)
or the the newly launched BTS Ha Yaek Lat Phrao station, then transfer to the subway (MRT)
and get off at Latprao
MRT

station (1 stop).
After that
** Come out of the Latprao subway (MRT) using exit 3 that leads to Latprao Road, turn right, walk along about 50 metres (you will pass a pedestrian road bridge), turn right again into Soi 15.
* Walk straight down past the first intersection (keeping the corner spirit house on your left)
and the House of Dhamma is on your right just after that intersection. It is a yellow-painted
shophouse with a big House of Dhamma sign across the front of the House. The house number is
26/9. It is about 5 minutes walk from the main Latprao Road.

Note: please do not take the left fork at the first intersection in Latprao Soi 15.
If you do, you will end up going to a different part of the road.

There is a spirit house/shrine at that first intersection. Don't take the left fork
or the little right turning there. Just go straight ahead. Ahead of you, there's a corner building
(that has just been renovated), then a little further along, there's a dressmakers, a lawyer's office
and another food shop. The next shophouse is the House of Dhamma.
It's about 10 minutes walk from the station.
Note: The doorbell is high up to the left of the door. Please ring and wait because someone
will be coming down from the third or fourth floor to open the door.


C: Another option is to get a taxi from Morchit BTS station and tell the driver "Latprao Soi 15".
The fare will be about 80 baht. As you come along Latprao Road, you will pass Big C
supermarket on your left and there is a big Toyota showroom at the corner of Soi 15.
You will need to tell the driver not to take the first left fork in Latprao Soi 15.