Mini Meditation Retreats at The House of Dhamma
For adult English speakers who would like to hone up their practice of
traditional Buddhist Vipassana (mindfulness) meditation. The retreat is not suitable for those who have not practised Buddhist Vipassana before.
Silent except for feedback sessions, Dhamma talks and chanting
Scheduled dates

Friday, January 27 and Saturday 28
Friday, May 26 and Saturday 27
Friday, July 28 and Saturday 29
Friday, December 22 and Saturday 23
or by appointment
Course fees

7,000 Baht per person + accommodation costs for one night, for a small group
(2 – 5 people) arranged by you

7,500 Baht per person + accommodation costs for one night, for a small group
(2 – 5 people) on scheduled dates
Note: Staying overnight in nearby rented accommodation (list available)

A formal application and a deposit (1,000 Baht) are required for each person.
Overview
Insight (Vipassana) meditation taught in the tradition of Ven. Mahasri Sayadaw of Burma
[and Section 5 of Wat Mahadhatu] forms the basis of the retreats. Emphasis will be placed on the integration of the spiritual dimensions of being with those of the physical in everyday life.
Standing, walking, sitting and lying down meditations will be held in group sessions and as individual practice. Vegetarian food will be provided. The retreats are open to all English-speaking adults.
It is not necessary to be a Buddhist to take part.
Instruction will be in English, with some Thai translation as necessary.
The mini-retreat is intended to give the participants the essential information
and hands-on experience that they will require to continue to practice on their own
or in a Thai meditation centre or the meditation section of a Buddhist temple.


You will come to realise the importance of the Four Foundations of Mindfulness (Sati).
You will see how walking meditation complements and enhances sitting practice.

The expected schedule for this retreat is as follows:
Friday

Saturday


10.00 Registration and orientation
10.30 Break
10.40 Chanting, Taking the five precepts
11.00 Break
11.10 Group practice with detailed instruction.
12.00 Lunch
13-30 - 14:00 Rest
14:10 'sorb arom' i.e. group meditation reports with the teacher
15.00 Private practice
17.00 Break
17.10 Evening chanting and Dhamma talk
18.00 Finish



10.00 Morning chanting and Dhamma talk
10.45 Break
11.00 Group practice with follow-up instruction
12.00 Lunch
13.30 - 14:00 Rest
14:10 - 16.30 Private practice (with individual feedback sessions if requested)
16.30 Break
16.40 - Group practice
18.00 (approx) Retreat ends



Location

For a map to the House of Dhamma, please see www.houseofdhamma.com/special.html




Meditation instructor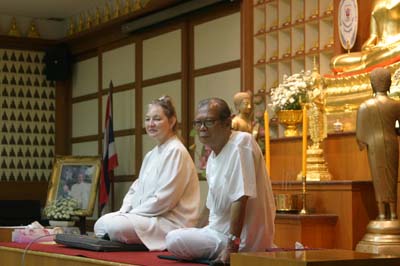 Acharn Helen and Acharn Kampan Suwanajak at a retreat held at the YBAT centre in Pathum Thani
About the instructor


The course will be led by Acharn Helen Jandamit (formerly Rev. Saddharma)
Acharn Helen is an author, visual artist, editor, frequency healer and Vipassana acharn. British born, she has lived in Thailand for more than 40 years bringing up her family and sharing her extensive experience and knowledge of traditional Buddhist Vipassana Meditation.

She was ordained with the Mook Rim Society (Korean Zen) for eleven years and now works as a spiritual independent running workshops and courses at The House of Dhamma. She worked with Mahachulalongkorn Buddhist University - MCU. and the Young Buddhists Association of Thailand – YBAT for many years. On invitation, she has travelled to run courses and retreats in Austria, Australia and the USA.

In 2002, on the occasion of International Women's Day, she was honoured as the Foremost Western Woman Meditation Master in South-east Asia.
Contact: email: dhamma.art@gmail.com or Tel. 02-511-0439 [e-mail is better]
To apply, please copy the questions below to an e-mail, answer them and send your answers to dhamma.art@gmail.com at least 5 days before the starting date of the course you would like to attend.
Please include a return email address so that you can get information about making a deposit and payment details. You will receive confirmation of your place, when the deposit is received.
| | |
| --- | --- |
| Name of course | |
| Date of course | |
| Mr/Mrs/Miss/Ms. + Name | |
| Surname/Family name | |
| Address in Thailand | |
| Permanent address (if different) | |
| Mobile phone | |
| Tel | |
| email | |
| Nationality | |
| Age | |
| Occupation | |
| Please give brief details of any previous meditation experience. | |
For more information email: dhamma.art@gmail.com

Phone 02 511-0439